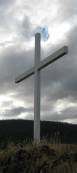 "For even I, the Son of Man, came here not to be served but to serve others, and to give my life as a ransom for many."
(Mark 10:45)
Jesus prayed in the Garden of Gethsemane,
"My Father, if it is possible, let this cup pass from me; yet not as I will, but as you will."
(Matthew 26:39)
What was he talking about? It is the cup of God's wrath that Jesus is speaking of. Jesus submitted to His Father's will—it had been determined that Jesus would be the bloody sacrifice—taking on the wrath of God on the part of us sinners.
"For God sent Jesus to take the punishment for our sins and to satisfy God's wrath against us. We are made right with God when we believe that Jesus shed his blood, sacrificing his life for us."
(Romans 3:25a)
Jesus told his followers:
"No one can take my life from me. I lay down my life voluntarily. For I have the right to lay it down when I want to and also the power to take it again."
(John 10:18)
So, who killed Jesus?
Some say the Jews did it.
The theological answer to "Did the Jews kill Jesus?" is this:
God
killed Jesus.
Jesus
killed Jesus. He laid down
his own life
—nobody took it from him. Jesus was no helpless victim—He laid down my life voluntarily.
And he did it because of his love for us.
"For God so loved the world that he gave his one and only Son, that whoever believes in him shall not perish but have eternal life."
(John 3:16)
Jesus chose to give up his life for me. And for you.
"Very rarely will anyone die for a righteous man, though for a good man someone might possibly dare to die. But God demonstrates his own love for us in this: While we were still sinners, Christ died for us."
(Romans 5:7-8)
Jesus said to each one of us:
"Greater love has no one than this: that one lay down his life for his friends...You are my friends."
(John 15:13-14)
Do you know that kind of love?
Have you experienced it?
I have, for I believe in what Jesus did—and that has made all the difference in my life.
Let me encourage you to open your heart to God's love shown to you in the person of Jesus Christ on this Good Friday.