Well, I celebrated my 40th birthday on Saturday, and I found that I was not as depressed as I thought I'd be. Thanks to all of you who sent e-mails and cards—what an encouragement!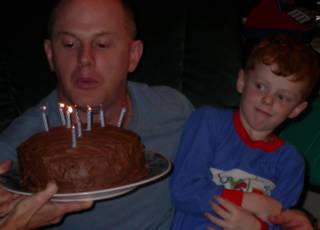 Here's some of the highlights:
From my old (literally! hee hee) friend Clarence Blasier:
When I get to be 40, I hope I look as good as you could look if you started taking care of yourself. Oh well! All is not lost. You've got plenty of time to get started. HAPPY BIRTHDAY!
From Laura Talamo, who helped plant our church with us:
Ahem....cough...
HAppy BIRTHday toooooooooo youuuuuuuuuuuuu....
HAppy BIRTHday toooooooooo youuuuuuuuuuuuu....
HAppy BIRTHDAY DEEEEEEEEEER BObby...
HAPPY BIRTHDAY TOOOOOOOO YOUUUUUUUUUU...!!!!!
Welcome to the "40-something" club!!!
It's about time!!!!

From Sam Tabiendo, a missionary friend in Spain:
Hey Bob,
Grace upon grace to you as you celebrate your birthday. May this next year, your 40th?, be a year of great breakthrough for you in:
growing deeper in your relationship with Christ
and
in your ministry in the Lord.
From my Dad, Jack Robinson:
Birthdays that end in zero can be hard. My 30th saw me as a freshman in college and a night-shift union worker. Not where I thought I would be. But it got better. They are just birthdays ending in zero.
From Sharon Robinson, one of my favorite people:
Life may seem undecided for you but in reality you have made the big choices--to be a man of faith, to love a wonderful woman, to guide and savor your children. Whatever else that is to be will enfold.
From my Wednesday morning breakfast buddy Tim Miller:
Happy 40th you old man. How's it feel to be over the hill...hahahah. I
'm right behind you baby.
See you Wed.
From Dr. David Entwistle, professor at Malone College:
Happy belated birthday, Bob!
I rather liked turning 40, but some people treat it like the plague!
Every anniversary, birthday, or yearly event can serve as a reminder of where we are, where we have come from, and where God has been in our journey. I'm sure that planting a church and trying to keep the finances in the black can be discouraging at times. Even though we didn't end up at Vanguard, in the few times we met, I came to value you so much.
You are a gifted preacher, and a man whose personal warmth and caring clearly demonstrate the love of Christ.
From my former head of women's ministries at The Chapel in North Canton, Janet Shaw:
Dear Bob,
Do not fear 40 is wonderful!!!!!! Take it from a 62 year old. You will be old enough to have been blessed by God with a good measure of wisdom and a body that still works and is useful to bless others as God leads. I hope this e-mail finds you healthy, happy, obedient and fruitful to the great commission. I spent some time at your web sight looking at pictures (I can't believe how big the kids are), looking at your writings, what books you are reading and the music you are listening to. Linda, your precious little ones and you will always be loved by us and all of you will forever be in our prayers. Keep sending me Vanguard emails. I do not want to loose contact with you all.
Have a great birthday!!!!!!!!!
Love in Christ,
Janet and Mike Shaw
Thanks again to all who sent cards and notes.
I survived. I didn't fall off into a mid-life crisis—I didn't buy a sports car or anything like that…
Life is looking good on this side of 40. I feel that God is calling me toward something big, and the opportunities are awesome.